दत्तोपन्त ठेंगडी-मृत्यु: (14 अक्टूबर, 2004)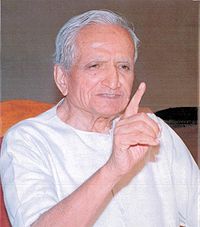 दत्तोपन्त ठेंगडी जन्म: 10 नवम्बर, 1920 – मृत्यु: 14 अक्टूबर, 2004) भारत के राष्ट्रवादी ट्रेड यूनियन नेता एवं भारतीय मज़दूर संघ के संस्थापक थे। भारत के ज्येष्ठ स्वतंत्रता सेनानी, उज्ज्वल राष्ट्रनिर्माण की अभिलाषा रखकर उसके लिए सदैव प्रयत्नरत रहने वाले कुशल संघटक, राष्ट्रप्रेमी संगठनों के शिल्पकार, द्रष्टा विचारवंत, लेखक, संतों के समान त्यागी और संयमित जीवन जीने वाले आदरणीय दत्तोपन्त ठेंगडी ने भारतीय किसानों को सन्मानपूर्वक जीवन जीने का अवसर देने के साथ, राष्ट्र के उत्थान प्रक्रिया में सहयोगी बनने की प्रेरणा देने के मूल विचार से भारतीय किसान संघ की स्थापना की। दत्तोपंत ठेंगडी जी भारतीय किसान संघ के कार्यकर्ताओं के प्रेरणास्थान हैं।
Dattopant Bapurao Thengadi, (10 November 1920 – 14 October 2004) was an Indian Hindu Ideologue, trade union leader, and founder of the Swadeshi Jagaran Manch, Bharatiya Mazdoor Sangh and the Bharatiya Kisan Sangh. He was born in the village of Arvi in Wardha district in Maharashtra.
Thengadi was a full-time Rashtriya Swayamsevak Sangh pracharak until his death on 14 October 2004. The kind of impact he left on the social and economic life of India was unique, and set the tone for generations to come. Some of the hallmark qualities of his lifestyle are: simple living, in-depth study, deep thinking, clarity of thought, courage of the conviction and missionary zeal for the goal.
Shri Dattopant Thengadi (Dattatreya Bapurao Thengadi) was born in the village of Arvi (Wardha, Maharashtra) on Deepawali, 10 November 1920. He was a lawyer as well as a philosopher, and displayed an early talent for administration. At the age of 15, he served as president of the 'Vanar Sena' as well as the Municipal High School student unionat Arvi. He actively took part in India's Freedom Movement and was a member of the Hindustan Socialist Republican Association (HSRA) from 1936-38. He worked as organizing secretary of the Indian National Trade Union Congress (INTUC) from 1950–51, and was also associated with the Postal & Railway Workers Union (Communist Party). He was profoundly influenced by Sh. Madhavrao Sadashivrao Golwalkar, popularly known as Guru Ji, some of the other towering figures of the time who influenced his persona are- Baba Saheb Ambedkar and Pt. Deendayal Upadhyaya.He always kept pace with time by establishing various organizations in different spheres, and maintained the core philosophy of Hindu Dharma and Bhartiya Darshan.
Dattopant Thengadi died on 14 October 2004 due to Brain Hemorrhage via Mahanirvaan. Great personalities of India and world gave him tribute.